About
Mission:
To provide high quality analytical laboratory services in a timely fashion to enable our customers to meet regulatory requirements and make informed decisions.
We strive to achieve this goal through the implementation of the following inter-related tasks:
Quality Control/Quality Assurance Plan
Performing analyses according to accepted methods
Ongoing participation in EPA approved Proficiency Testing Studies
Obtaining applicable industry certifications
Use of modern facilities and equipment
Continuing professional education
Ongoing assessment of company procedures and policies
Capabilities & Services
Condensed Listing-Please inquire if you have needs for services not shown in the tables below.
Inorganic Analysis
Alkalinity, Total
Bicarbonate
Chloride
Chlorine, Total Residual
Conductivity (specific conductance)
Cyanide, Total
Dissolved Oxygen
Fluoride
Hardness (CaCO3)
Nitrogen, Ammonia
Nitrogen, Kjeldahl
Nitrogen, Nitrate
Nitrogen, Nitrite
Nitrogen, Nitrite + Nitrate
Nitrogen, Total Inorganic (Nitrite+Nitrate+Ammonia Nitrogen)
pH
Phosphorus, Ortho
Phosphorus, Total
Radon
Silica
Solids, Dissolved
Solids, Suspended
Solids, Total
Solids, Volatile
Sulfate
Sulfide
Hydrogen Sulfide
Tannic Acid (Tannins)
Turbidity
microbiological Analysis
Coliform, Fecal
Coliform, Total (Presence/Absence)
Coliform, Total (Colony Count)
E. coli (Colony Count)
E. coli (Presence/Absence)
Heterotrophic Plate Count (Standard Plate Count)
Iron Bacteria (Presence/Absence with estimated count)
Sulfate Bacteria (Presence/Absence with estimated count)
Volatile Organic Analysis
GC/MS Drinking Water Methods
Volatiles-EPA Method 524.2 (59 analytes)
Volatiles, expanded list-EPA Method 524.2 (83 Analytes)
Trihalomethanes (THM's)
Organics - Miscellaneous
BOD-5 Day (Biological Oxygen Demand)
COD (Chemical Oxygen Demand)
Oil & Grease
Phenols, Total
Total Organic Carbon
Metals
Flame AA
Methods as appropriate: Furnace/ICP-MS/Hydride/Cold Vapor Low Level Detection
Aluminum
X
Antimony
X
Arsenic
X
Barium
X
Beryllium
X
Cadmium
X
Calcium
X
Chromium
X
X
Copper
X
Iron
X
Lead
X
Magnesium
X
Manganese
X
Mercury
X
Nickel
X
Potassium
X
Selenium
X
Silver
X
Sodium
X
Thalium
X
Zinc
X
Sample Prep for Metals Analysis
Filtration or Digestion as required
Examples of Our Instrumentation
Metals Analysis-Atomic Absorption (AA) Spectrometry and AA Graphite Furnace Spectrometry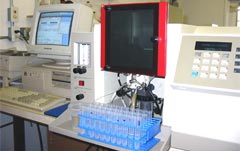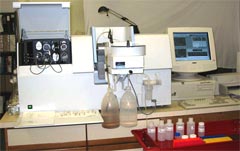 Volatile Organics Analysis-Gas Chromatography/Mass Spectrometry (GC/MS) with Purge & Trap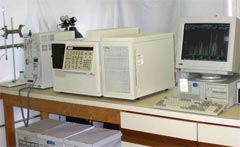 Inorganic Analysis-FIA and IC Instrumentation used for several inorganic parameters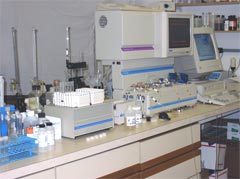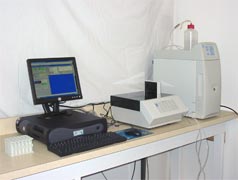 Microbiological Analysis-Filtration funnels, incubators, magnifying colony counters, and sterilizers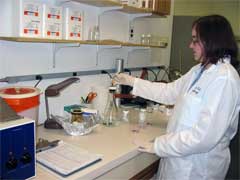 Samples logged, tracked, and reports generated using customized LIMS software
Certification
We are certified by the Michigan Department of Environmental Quality for microbiological, inorganic chemistry, and organic chemistry analyses. A copy of our current certificate can be provided upon request.
Criteria for certification by the MDEQ:
Using internally developed standard operating procedures based on approved test methods
Implementation of approved QC/QA plan
Successful on-site audits
Successful performance of annual or more frequent EPA approved Proficiency Testing Studies
Water Tech, Inc. designations
MDEQ Laboratory 0023
EPA Laboratory MI 103
Our certification includes the following parameters:
Microbiology
Total Coliform
E. coli
Fecal Coliform
Heterotrophic Plate Count
Inorganic Chemistry
Antimony
Arsenic
Barium
Beryllium
Cadmium
Copper
Chromium
Fluoride
Lead
Nickel
Nitrate
Nitrite
Selenium
Sodium
Sulfate
Organic Chemistry
Volatile Organic Compounds
Total Trihalomethanes